Inspired by Christie's attitude on
Describe Happy
, I've realized I haven't thought about what makes me happy lately. Being trapped in cold, freezing weather in NY (it snowed again today) and having to take public transportation everywhere (rat-infested subway systems) has taken a toll on my spontaneity. Not to mention everyone here drives like a maniac. Having lived in Northern California most of my life, I was used to the freedom of hopping in the car any time on a whim to satisfy whatever craving I was having, no matter the weather (because 99.9% of the time, the weather wasn't bad enough to halt transportation). Oh, and I used to think people in San Francisco were bad drivers. I take that back.
Cable Car - Illustration Print
by
nidhi
Check out her shop for more beautiful prints of San Francisco and other places!
I've just finished reading
The Lost Memoirs of Jane Austen
by Syrie James, a historical fiction novel about the mysterious love life of the author who wrote such romantic novels. One of my favorite books is Jane Austen's
Pride and Prejudice
, though I love all her novels, so my interest is always piqued whenever I encounter anything written about Jane or one of her works. This book did not disappoint. It's written in such a similar style to Jane Austen's that I felt like I had discovered one of her unpublished secret volumes! Very similar in style and content to
Sense and Sensibility
and
Pride and Prejudice
, this book is Syrie James' speculation of the relationship between Jane Austen and her rumored secret love, leading to the inspiration behind her beloved novels. What pulled me in so deeply was that it was written in the first person, using Jane Austen's voice, which gave it such a feeling of authenticity that I really wanted to believe the story was real.
Mr. Darcy quote
by
UUPP
Nothing quite cheers me up like getting lost in Austen's world. But on another note, receiving a blogger award is also quite cheerful!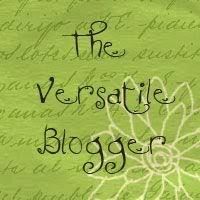 I've been given the
Versatile Blogger Award
from the three lovely ladies at
To Sew With Love
. Thank you so much! I love hearing from my blog buddies and something like this definitely brightened my day :) I'd definitely give this award back to y'all if I could!
,.-~*´¨¯¨`*·~-.¸-( ✴ thanks! ✴ )-,.-~*´¨¯¨`*·~-.¸
Now,
every award has a few rules
, so here goes.
Thank and link back to the award giver.
Share 7 things about myself.
Award 10 recently discovered great bloggers.
Let these bloggers know about the award and let the giver know you've accepted the award.
I've already shared 7 things about myself when I received the
Stylish Blogger Award
, so this time I'm going to share
7 things that currently make me happy
! (in keeping with the Happy List theme and identifying positive things I haven't been noticing lately in my life).
Finishing The Lost Memoirs of Jane Austen. It's temporarily given me rose-colored glasses.
Living in a pretty nice studio with my husband where the rent is beyond reasonable and the neighbors are amazing and fun.
We have Netflix and a Wii, which means we get to play video games and watch streaming movies on our tv!
I'm married to a very loving, accepting, and supportive man who's also my best friend.
Hamlette, our hamster, is very tame and puts up with a lot our attention. She also puts on an impressive show when guests come over by being super curious and energetic.
We are all in good health.
Blogging and connecting with others is a form of therapy. I'm really thankful for blogspot and for those who've found their way to this little piece of the internet.
Lizzy Bennet Visits Pemberley
by
TaraFlyPhotos
10 great bloggers!
Oh yeah, I wanted to leave you with this quote from Jane Austen...
"...why did we wait for anything? Why not seize the pleasure at once? How often is happiness destroyed by preparation, foolish preparation!" --
Emma
Here's a cheerful treasury :)
Treasury tool
is sponsored by
Lazzia.com A/B image testing
.