Hi all, a quick note before we get to the showcase --
today's the last day to
enter my giveaway
, so give it a look! :) Now then, there were so many amazing home decor posts in last week's linky, I think I may have to call this week's showcase the Home Decor Edition! I'm also showing more projects this week than last week because there were so many good ones.
Got an old mismatched teacup that's too pretty to part with?
Domestiquette
has a
super simple tutorial
for how to make a
fragrant and elegant teacup candle
! I really love this idea and you won't want to skip this one.
Isn't this newly
upholstered chair
just charming? It's a bit of a time-consuiming project, but
Little Guess Family
shows you how in
a step-by-step photo tutorial
. The upside is you get a wonderfully unique chair, exactly the way you like it!
Here's a
gorgeous pillow
to go with your charming new chair! You can
make any design you want
, and
The Crafty Cpa
shows you how. This is one of my favorite craft-tutorial websites -- it's a goldmine!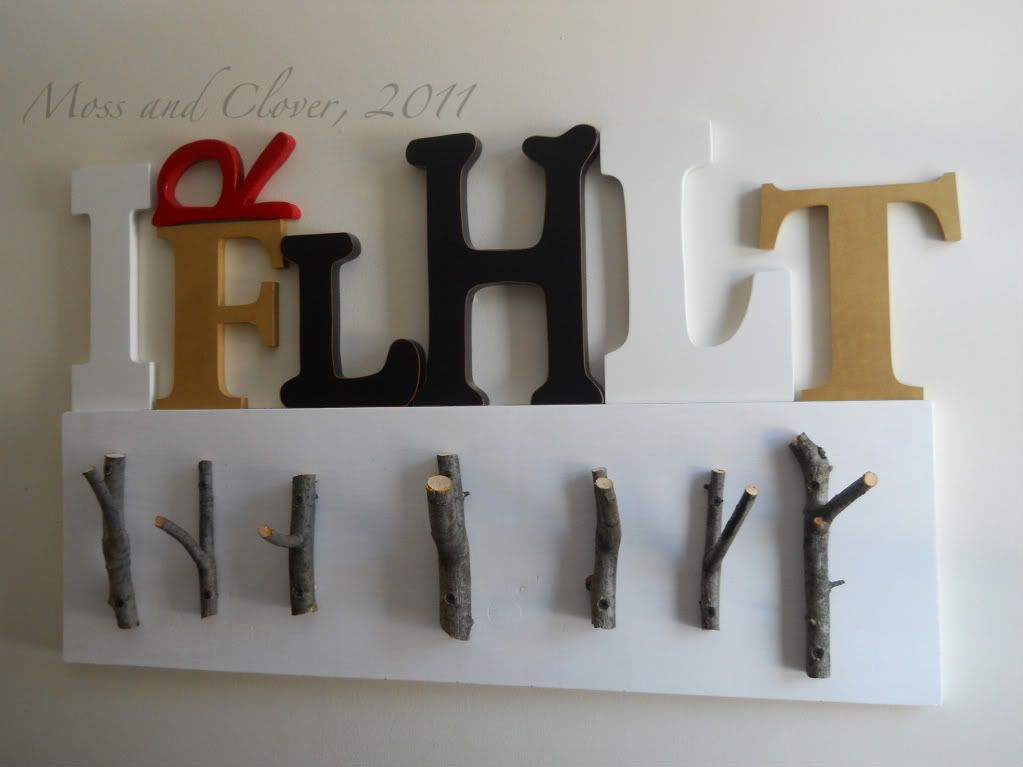 Isn't this
coat hook hanger
so amazing? I just love the
idea of using tree branch trimmings
as hooks! Learn more about how this was made at
Moss and Clover
.
It's almost Spring! Brighten up your patio with
fun terra cotta candle holders
! Maybe you've been wanting to paint some of your pots but wasn't sure what kind of paint to use, or you really love an image in a magazine and wish it were on your pot instead.
Cluttered Closet
shows you how with some
very helpful techniques
to get the beautiful pot that you've always wanted!
This is such a great idea, you'll wonder why you haven't thought of it yourself. It's also
a very simple project
!
Make some sophisticated wall art
for your bedroom, living room, kitchen, etc and look like you paid a million bucks (okay, maybe not a million, but you get my point :)
The Elephant's Trunk
shows you how.
Another great idea in simple-project form.
Make your own cookie cutters
!
The DIY Home Sweet Home Project
not only shows you
how to make cookie cutters
, but she throws in a recipe for veggie chips as well. Sweet!
Make cute leather booties for your favorite babies! The
Polka-Dot Umbrella
shows you how to find affordable supplies, what to look for in leather,
how to sew some booties
, and
lots of other good advice
!
This is a great project to learn because how many times have you wished you
could design and print your own
t-shirt?
Joy Is At Home
printed her own custom baby onesies and
teaches you how she did it
, along with some valuable tips.
++++++++++++++++++++++++++++++++++++++++
Join the fun every Sunday and link up your latest blog post! I will be featuring my favorite blog posts from this list on the next Sunday Linky Party. You can post anything you'd like to share! :)
Please link a specific blog post and not the overall homepage!
If you're participating in the linky party, feel free to grab my link party button and help spread the word!
Share this list on your blog!
get the InLinkz code