Happy Easter! It's been another wonderful week with many wonderful posts from last week :) I've been thinking of coming up with another name for the Sunday Linky Party, but haven't thought of anything good yet... any ideas? Maybe I'll keep thinking about it, and something will come up. I hope you're all having a lovely time celebrating, spending time with friends, hunting eggs, taking pictures with giant bunnies, or just sleeping in. Nothing like spending a nice relaxing day eating and crafting with friends :) Here are some ideas to get you started!
Always wanted
your name in a stamp
and in your own handwriting?
The Crafty Cpa
has the perfect tutorial for you! If you liked her vintage embroidery from last week, she has another one for you to make,
here
:)
Isn't this heart just sweet? Learn how to
make this stuffed heart
from
Nifty Thrifty Things
. I think it'd be even better with a bit of dried lavender (or other scented flowers) sewn in ;)
Maybe you've already made your
Easter eggs
, but these are so pretty, and such a good idea, that I wanted to post it! Made by
Miss Polyclay
, all you need is an egg, some embroidery thread, and glue.
Here are some other
egg-decorating ideas
from
Doberman's by the Sea
. Aren't they cute and simple? Of course, her vintage basket is lovely as well :)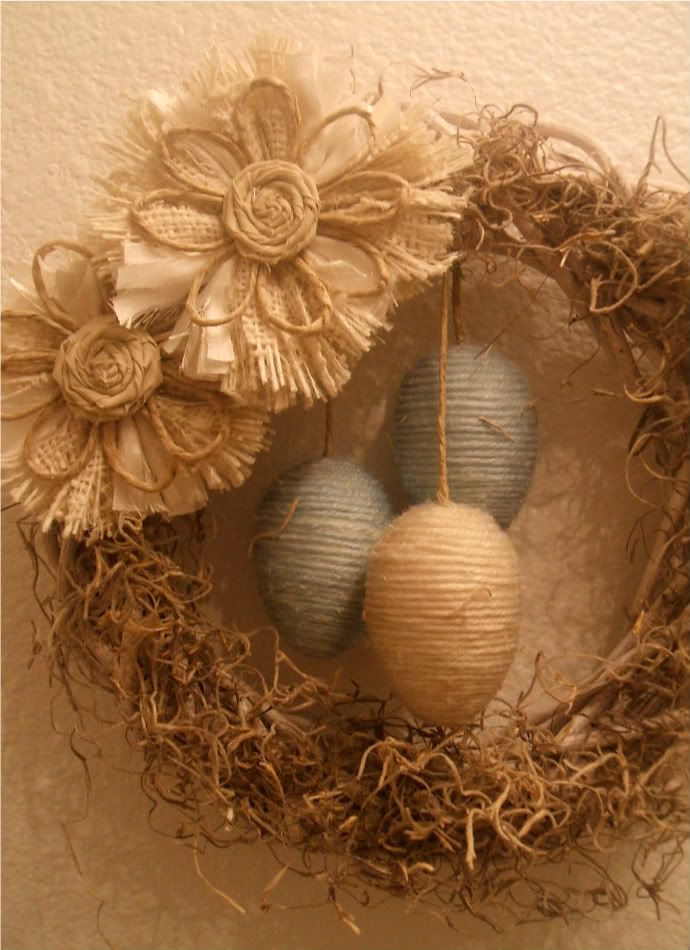 Isn't this
Easter wreath
just lovely? I love the muted colors and the roughness of the yarn/twine plus the spanish moss :) Find the tutorial at
Just Dream, Jelly-Bean!
Check out her
lamp tutorial
as well.
A great festive way
to use the free coasters you find
in restaurants!
Pressed Down, Shaken Together
gives you the info for making these cute decorations. You can even string them together to make a pretty garland :)
Isn't this chair cute?
Ingas Haven
calls it an
Einstein chair
, but I think it could easily look like a sheep as well... with long legs :) You can make your own, and it's not too hard!
If you ever find some unique furniture and want to
spruce it up
with a new layer of paint,
Fine & Handy
will teach you how, as well as how to give it an old vintage look (which I don't know anything about so this is really helpful :)
Make these
pinwheel bows
for your favorite girls! They can be used as hair clips, brooches, pins, gift wrap, or anything else you'd like.
Hello My Name is Mama
has video tutorials for you.
Want to make a quick and fun dinner? How about
mini cheddar and mushroom quiches
?
Hungry Homebody
has the recipe for your next yummy dinner adventure.
Now then, you want to make cookies but you are terrible with the oven. So how about
non-bake cookies that look like sheep
? Not a bad idea!
Last Minute Mel
will show you how to make this simple and super cute treat. You can even get the kids involved!
Last but not least, a
giveaway
! You know how I love giveaways :) You can win this all-natural, hand-crafted, vegan, lavender soap AND an organic lavender and citrus hand/body cream, from
Mountain Creek Soaps
. Ends on May 1st.
Honorable Mentions
: I wanted to link these up because they're great posts as well! There were so many good posts last week, these are worth checking out!
++++++++++++++++++++++++++++++++++++++++
Join the fun every Sunday and link up your latest blog post! I will be featuring my favorite blog posts from this list on the next Sunday Linky Party. You can post anything you'd like to share! :) Check out the other linked posts as well - they're gems!
Please link a specific blog post and not the overall homepage!
If you're participating in the linky party, feel free to grab my link party button and help spread the word!
This is a blog hop!
get the code here to share