Happy Memorial Day weekend! I had such a great and tiring time last week. My husband came back from NYC to visit for a week so we and some of our out-of-state buddies rented a cabin in Yosemite and hiked until our legs were like spaghetti! I was extremely out of shape but motivated by the intense workout. The views hiking up the mountain and waterfalls were amazing and the weather was sunny but not too hot (in other words, perfect!) Now I'm so tired and sleep-deprived :( I think I woke up at noon today. Once I find my camera usb cord, I'll upload some pictures!
Now, for this week's featured posts. There were so many recipes this time, I think I'll call this the Food Edition :) Yum!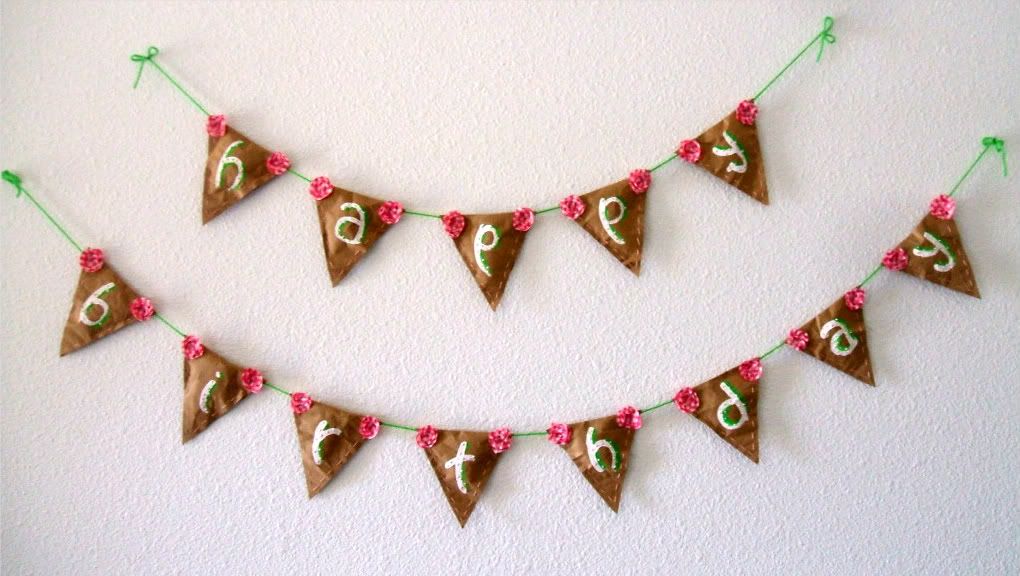 Super cute
happy birthday garland
! I love this! Check out how to make your own at
Just Dream Jelly Bean
.
Get a goodnight's sleep and rested eyes with this
relaxation eye pillow
.
Nifty Thrifty Things
puts together this tutorial with style (as usual :)
Can you believe this
vase
used to be a yellow cookie jar? Because of its lovely shape,
Making it Homey
decided to give it a makeover. Learn how she did it to make one for yourself!
How pretty are these
shells
?? These home decor pieces are getting popular so why not make your own?
From Gardners to Bergers
has tested several paints/techniques so you can get it right on the first try! Also check out part 2 of their
homemade cleaning supplies
, in case you make a mess.
Personalize your
magnets, push pins, or anything you'd like
to use these for, using clear glass marbles and your favorite pictures/patterns. This great idea and tutorial can be found at
Running with Glitter
.
Does this look mouth-watering good or what? It's a
cheeseburger ring
and it looks so savory and yummy.
Jam Hands
has this recipe as well as a
blueberry crumb bar
, which looked equally good that I wanted to post both!
How cute is this?
Perfect for your new grad
and all his/her friends. Find the recipe at
The Seven Year Cottage
.
Yummy apple cake! I want some of this right now. Get the recipe at
Zoe's Blog
.
More recipes:
++++++++++++++++++++++++++++++++++++++++
Join the fun every Sunday and link up your latest blog post! I will be featuring my favorite blog posts from this list on the next Sunday Linky Party. You can post anything you'd like to share! :) Check out the other linked posts as well - they're gems!
Please link a
specific blog post
and not the overall homepage!
If you're participating in the linky party, feel free to grab my link party button and help spread the word!
This is a blog hop!
get the code here to share