It's less than two weeks until Valentine's Day, so if you're celebrating, there are some great projects in this week's gallery :) And jeez, this is sort of a longer gallery. There were too many things I wanted to feature (it was especially hard choosing between the recipes).
It was also Groundhog's Day this past week! It's not a very exciting holiday, but it is one of the best movies (in my opinion) ever. I think I might start a tradition of watching the movie every Groundhog's Day... I wonder how many years I'd last. Oh, and just for the record, Punxsutawney Phil has been wrong more times than right. Google it!
Make some cute 3D pop-out art, like this
heart canvas
, from
Twigg Studios
. It's so adorable and a perfect way to express your inner romantic ;)
Need a new wall art for this season? Give your living room a pop of color and romance with this
Valentine's art
by
Shaken Together
. I especially love the frame (which you can find a nicely textured one and paint red) and the pink striped background, although everything's cute :)
Super cute
pillows with messages
hidden under a flap by
Inspired By Family Magazine
. These would make nice morning surprises on each of your loved ones' beds. I think the kids would appreciate them the most!
Maybe some of you have seen these before. I know I have, but never learned how to make them. Now you can make your own
heart origami
with this tutorial by
Moments with the Montano's
. What's great is that you can decorate these and make them into ornaments as well!
Last of the Valentine goodies,
download this lovely free printable
, plus two others, made by
The Latest Find
:)
I'm not a kid and I still want this
art table
by
Revamp Homegoods
! You, too, can make this awesome piece of furniture for your little budding artist(s), or for yourself! Also check out her
ceramic owl tutorial
.
See this
up-cycled porch light
? It's so charming and reminds me of summer and catching fireflies. Why didn't I think of this amazing yet simple idea? Check it out at
Joy's Jots, Shots, & Whatnots
Guess what these
pendants
are made of? Here's a hint, you probably already have the main ingredients at home right now. Haven't figured it out yet? Well, head over to
Lady With the Red Rocker
to find out how to make your own!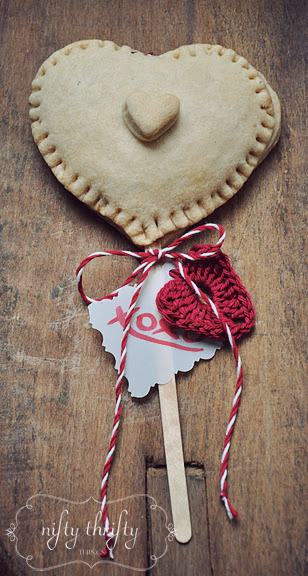 Want to make a fabulous Valentine's Day dessert? How about
Valentine's pie hearts
on a stick? It looks cute and would be the talk of a dinner party. How do I get someone to make these for me so I can wake up to one in the morning? Head over to
Nifty Thrifty Things
!
Pass out these
chocolate covered flutternutter hearts
to your friends and family. They won't believe you made them yourself! Plus, there are a million ways to get creative in decorating these, if you like variety. Check it out at
Homegrown Beanes
.
Forget the frozen
stuffed pizza bites
from your local grocery store freezer and make your own! You get to control the ingredients which means it's healthier, it's still yummy and tastes like pizza, and everyone will be amazed at your culinary skills :) Sounds like a good deal. Find this recipe at
Scout's Stitches
. Try her
fish foil packets
too.
Here's a way to make lunch easy for all the hungry mouths in your family:
ham and cheese braid
! It's like an ultra yummy and portable sandwich. Just make one braid, cut it up into meal-sized portions, and hand them over to the ones on the go. Find this at
Tip Garden
, and a
pepperoni bread
too.
More recipes:
++++++++++++++++++++++++++++++++++++++++
Join the fun every Sunday and link up your latest blog post! I will be featuring my favorite blog posts from this list on the next Sunday Linky Party. You can post anything you'd like to share! :) Check out the other linked posts as well - they're gems!
Please link a
specific blog post
and not the overall homepage!
If you're participating in the linky party, feel free to grab my link party button and help spread the word!
This is a blog hop!
get the code here to share