Hope you've all realized, but it's Day Light Savings Time again, which means we've lost an hour today! :( One less hour of sleep... sigh. Anyway, please check out all the recipes this week because they were again, sooo amazing and hard to choose from! And now onto the gallery!
This piece of
wall art
is seriously gorgeous! I really want to make this and put it front and center on my living room wall, once I have my own house, that is :) Head over to
Hell on Heels Housewife
for the great tutorial!
If you have a drawerful of old oven mitts with burn marks on them (like I do), you'll find this oven mitt tutorial helpful in
giving your old oven mitts a new look
and life. Check it out at
Serendipity and Spice
. Also, you'll definitely want to read her post on
protecting your blog in all legal aspects
.
If you ever thought, "
What
am I going to do with all my mismatched plates??" (assuming you have a
collection of lonely pretty plates
:) Well, apparently, all you need is a nice drill and the possibilities are endless! Try it at
Av Susanne
.
These
clay doily heart ornaments
are pretty cute, right? And they're easy to make too, and you don't even need to bake them. Find it at
Twigg Studios
. Check out her great way of making
paper bows
too.
Did you know there's a
right and wrong way to shampoo
your hair? I didn't, so I'm thrilled to read this post from cosmetology student/graduate (I'm not sure which one),
A Rosie Sweet Home
. This makes me want to take some cosmetology classes just to learn what else I'm doing wrong :) Thanks! Also try her
spare toilet paper holder
tutorial.
Yay, a
free downloadable
and an excuse to send postcards to invite your friends to dinner! Just print these out and send them, or you can save the image and e-mail them too :) Whatever you want. Get this at
Happy in Red
.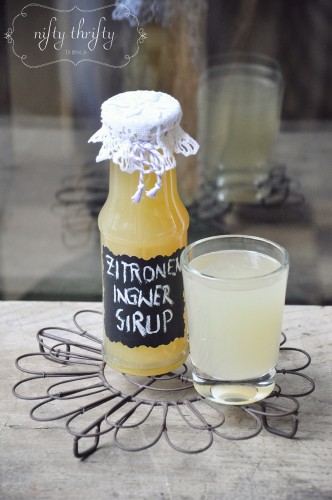 So, Spring's almost here and cold season should be over now, right? Well, that's not the case in my office, where my poor coworker has been coughing up a fit, so this
lemon ginger syrup
will probably be useful in keeping around the fridge. Head over to
Nifty Thrifty Things
!
Apple almond cake in a jar
? What better way of controlling portions and carrying it around as a snack? Seriously, great idea! And they look really cute too. Make this at
Organized Living Solutions
.
Saint Patrick's Day is coming up so get festive with these
shamrock cucumber tea sandwiches
! Serve them at your next March Madness party, or any party really :) Find the recipe at
Will Cook for Smiles
. Also check her
smiling Thai crab dish
. I looooooooove eating crab, almost more than anything else! Although I can't think of anything else better at the moment :)
Mmm... make cheesecake portable, in this
chocolate swirl cheesecake cupcake
recipe! There's no reason why you can't have cheesecake with chocolate on the go, or in bite-sized portions. Get it at
Elsa Cooks
.
Spice up dinner tonight with a
mango chicken salad in tortilla bowls
! It looks healthy, colorful (which equals healthy :), annnd it's definitely a great way to switch up your usual dinner tastes. Get this recipe at
Inspired By Family Magazine
and try her
freezer friendly foods and recipes
too.
More recipes:
++++++++++++++++++++++++++++++++++++++++
Join the fun every Sunday and link up your latest blog post! I will be featuring my favorite blog posts from this list on the next Sunday Linky Party. You can post anything you'd like to share! :) Check out the other linked posts as well - they're gems!
Please link a
specific blog post
and not the overall homepage!
If you're participating in the linky party, feel free to grab my link party button and help spread the word!
This is a blog hop!
get the code here to share