Happy Easter Sunday! I remember when I used to wake up to a candy-filled Easter basket on the breakfast table, with a note saying the Easter Bunny stopped by. Well, that doesn't happen anymore. I know it's not the meaning of Easter, but it sure made my mornings back then :) Anyway, hope you're all having a wonderful morning. Now onto the features!
You can have this beautiful
wire ring
that looks like spun gold and all you need is some copper wire. It's really really easy, as you'll see from
A Rosie Sweet Home
's tutorial. What a great idea!
Add this super cute
pillow
to the collection on your couch! See how
Shabby Beach Nest
did it without spending any money at all. Of course this would be a great time to dig through your old clothes and stuff for things you won't be using anymore :)
Make your day at the beach extra worthwhile by using the driftwood you collected (you did collect some, didn't you?) to make an awesome
hook rack
! It's quite simple if you're handy with a hammer and nails. Check it out at
Twigg Studios
. And check out her tutorial on
how to glam up a tank top
.
An amazing soap recipe from
Soap Deli News
! Make your own
coffee soap bars with fresh herbs
. Nothing like waking yourself up with a jolt of coffee and herbs, right? Making your own soap is does require some time, equipment, and patience, but the results are worth it!
If you've ever seen those felt ball acorns and other felted jewelry, animals, etc, on Etsy and wondered how they're made,
Art Club Blog
takes the mystery away with this
funky felt balls
tutorial.
Let everyone know that you're loving Spring with a big
flowery headband
, or get all your bridesmaids to wear these for your upcoming wedding :) It's really easy to make and it looks beautiful. Head over to
The Crafty Scientist
for the tutorial.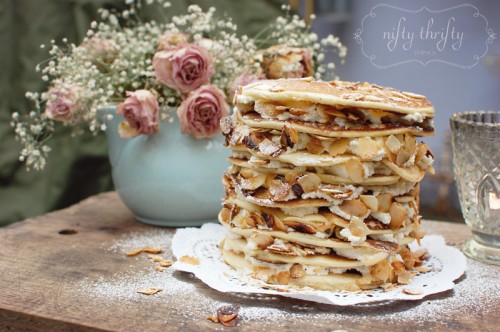 Make the ultimate breakfast with this
banana and cream pancake tower
, by
Nifty Thrifty Things
. Imagine the excitement of digging into an overabundance of pancakes, like these! I think some people dream of such moments.
Make bakery-worthy
cranberry brie puffs
for your family and friends and amaze them with your mad skillz ;) but we'll know the secret, which is that it's easier to make than it looks. Get this recipe at
Will Cook for Smiles
and try her
pina colada rum cupcakes
too.
Here's another sweet dessert that looks more complicated than it is to make. Surprise your buddies with these
lemon cookie white chocolate truffles
and up your cookery cred, with
Shaken Together
's recipe.
Shake up your dinner routine by throwing in some sweet potato gnocchi with browned butter and sage. Sweet potatoes are a good source of vitamin A ;) Try this at
The Traveling Spoon
and try her
spring pea salad with bacon
and the
ultimate chewy chocolate chip cookies
, too.
More recipes:
++++++++++++++++++++++++++++++++++++++++
Join the fun every Sunday and link up your latest blog post! I will be featuring my favorite blog posts from this list on the next Sunday Linky Party. You can post anything you'd like to share! :) Check out the other linked posts as well - they're gems!
Please link a
specific blog post
and not the overall homepage!
If you're participating in the linky party, feel free to grab my link party button and help spread the word!
This is a blog hop!
get the code here to share