Well, it's been a rainy week and sunshine has just started showing. I just hope the sunny weather holds up because I'd like to do some hiking without getting sucked down into mud :) Now, let's get onto this week's gallery of features!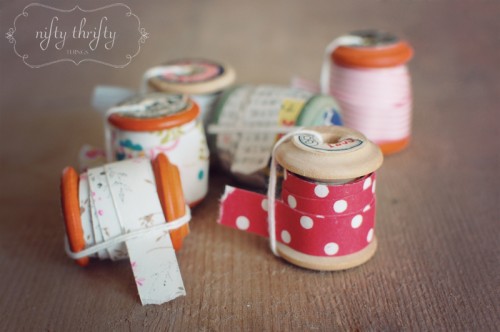 If you don't know what
washi tape
is, it's essentially really cute tape from Japan that can be used for decorations AND for taping stuff. It can also be hard to find, so the resourceful
Nifty Thrifty Things
shows us how to make it ourselves. These are perfect for brightening up presents!
You can make your own
lazy susan
, like the one above (and yes, it spins!), thanks to the tutorial at
Reini Days over on Washington Street
. If you've ever had a large party of people over sitting around one table, you'll know how useful this thing is.
How pretty are these
stamped clay butterflies
? Add a whimsical touch to your vases, bowls, or anything you want by following the tutorial at
Twigg Studios
! You'll also want to check out her
fabric peonies
and
map page roses
tutorials, both of which are beautiful :)
Create your own
masterpiece copy
of this Octopus Triptych by Lord Bodner. It's seriously not as hard as it looks, and you can bet everyone will be thoroughly impressed. Head over to
Revamp Homegoods
to learn how!
If you need more pillows for your couch, how about one showing the
latitude and longitude
of your favorite city? Or where you and your favorite person met?
Crafting Rebellion
shows you how to get that information onto fabric and make it into a pillow.
If you're planning to have a rainbow-themed party, you'll find this great set of
rainbow birthday party printables
at
Printabelle
. Just click to find the link to both the water bottle label and the entire set to download!
Get fancy for breakfast with these
tomato feta breakfast cups
from
Will Cook for Smiles
. These look so yummy, they kind of remind me of little pepperoni pizza cups too. Hmm.. maybe I'll make both. Try her
blueberry banana key lime muffins
and
bacon flower bouquet
as well!
Another fancy breakfast food:
bird in a nest tart
by
Lady Behind the Curtain
. That's an egg baked into the center of the pastry puff! How can I get my husband to make this for me? Well, it'll probably come out better if I made it myself. Try her
lemon poppy seed quick bread
, too!
Eat healthy for dinner tonight (although you really should eat healthy every night) by adding this
kale salad
. Kale is one of the healthiest veggies and it's even healthier when it's raw. Find this recipe at
Thnx Pinterest
.
Get a wake up call for dessert with these
mocha cupcakes with espresso buttercream frosting
. This is probably a coffee lover's dream dessert! You can probably even hand them out for breakfast at work and get on everyone's good side ;) Try this at
Izzy in the Kitchen
and try her
handmade Reese's peanut butter eggs
.
More recipes:
++++++++++++++++++++++++++++++++++++++++
Join the fun every Sunday and link up your latest blog post! I will be featuring my favorite blog posts from this list on the next Sunday Linky Party. You can post anything you'd like to share! :) Check out the other linked posts as well - they're gems!
Please link a
specific blog post
and not the overall homepage!
If you're participating in the linky party, feel free to grab my link party button and help spread the word!
This is a blog hop!
get the code here to share