Happy Sunday everyone! There are a lot of home decor/renovation projects today and they're pretty amazing, so time to get out your tools :) Check out the yummy recipes, too. I'm really thrilled about this week's picks so I hope they'll inspire you as well!
How cool is this
window pane coffee table
??? I love it and I definitely want one in my house! If you want to make one too, just head over to
Marty's Musings
and click on the link from her post.
Most people probably don't make their own tables, but I love how thorough and clean this tutorial is. It's so clear, I can probably follow it (and I haven't built any furniture before :) Check out this
farm table tutorial
at
Osie Moats
.
Do you know what you could do if you had some extra space between your fridge and your counters? Make a
pantry/grocery slider
! What a great idea. Learn how to make one at
With a Blast
and check out her
spray paint ideas
, too.
Here's a
chalk paint recipe
that would go well with the projects above. I've featured a couple chalk paint recipes in previous parties, but since they're all a little different, you can try them all and see which one you like the most :) Find this at
Twigg Studios
. Check out her other tutorials:
patterned wooden cutlery
,
design your own fabric
, and
polka dot bottle vase
.
Treat yourself to a nice facial exfoliation with this
calendula and goat milk facial scrub
from
Soap Deli News
! I love that this is dry so I'm thinking that this will last longer than your typical homemade wet scrubs :) If you're looking for other bath/beauty recipes, check out her
solid shea butter salt scrub cubes
and
multiple other recipes (plus a giveaway)
!
Summer's almost over, which means we should make the most of it while it's still around! If you enjoy gardening, you'll enjoy
Sow/Sew and Dippity
's summer garden tips, including how to
pick, dry, and make a tasty blend of chamomile tea
!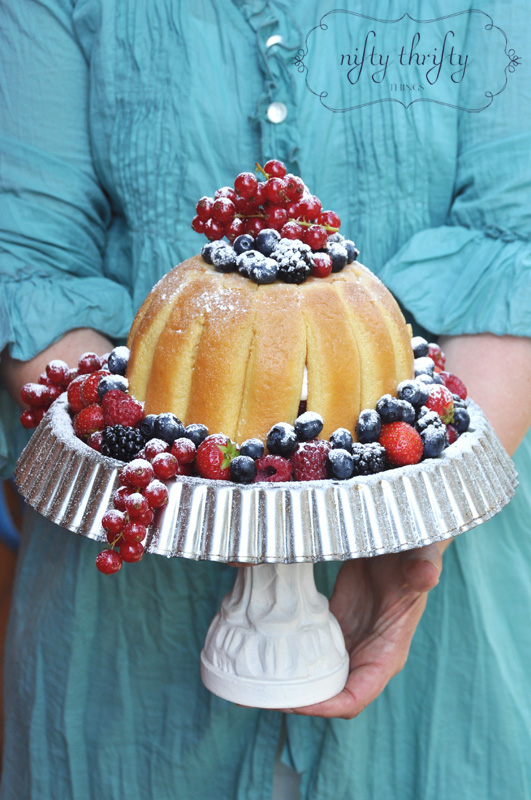 This has got to be the most amazing looking
mixed berry mascarpone "cake/bomb"
I've seen so far. You know what's the best part? No baking!
Nifty Thrifty Things
makes it look easy but I'm afraid that if I make it, it might fall apart, but that won't stop me from trying :)
Get that pizza flavor without the carbs and with extra lycopene! (You know, that good-for-you-especially-for-men nutrient that only comes out of cooked tomatoes, not raw). Make these
pepperoni pizza tomato bowls
from
Make the Best of Everything
! Try her
sweet pepper lollipops
, too.
Here's a good way to get everyone to eat more chicken breast, make them into
creamy buffalo chicken bites
! Serve them at a party or to get your kids to snack on something more wholesome and less pre-packaged/manufactured. Find this at
Scattered Thoughts of a Crafty Mom
.
For apple pie and cheesecake lovers, now you don't have to choose between the two because you can make this
personal size apple pie cheesecake with caramel sauce
! This recipe makes 12, so gather your 12 closest apple pie/cheesecake lovers and serve them this. You can even make the caramel sauce from scratch! Find this at
Mommy's Sweet Confessions
. Try her
baked maple glazed yeast donuts
,
double chocolate zucchini brownies
,
s'mores truffles
, and
Nutella Oreo truffles
.
Here's another fun snack/appetizer for your friends and family:
jalapeno cream cheese poppers
! With only 3 easy-to-find recipes, making this will be a cinch. Try this from
High Heels and Grills
. Her other recipes are:
mini Philly cheesesteaks
,
triple chocolate brownies
,
Italian Crockpot chicken
, and
Southwestern salad
.
More recipes:
++++++++++++++++++++++++++++++++++++++++


Join the fun
every Sunday and link up your latest blog post
! I will be
featuring my favorite
blog posts from this list on the next Sunday Linky Party. You can post anything you'd like to share! :) Check out the other linked posts as well - they're gems!
Important:
If you link up and are featured in the next Sunday Linky Party, you give me permission to use the photo that I feature to promote the Sunday Linky Party you are featured in. You are the owner of your photos, but I may use the featured photo to promote the party through Twitter, Facebook, Pinterest, Craftgawker, G+, and other social networking and blog/web sites. If you do not want your photo to be used, you can either link up and send me an e-mail saying you don't want to be featured, or you can not link up. To learn more about why I added this note,
head to this past party
.
Please link a
specific blog post
and not the overall homepage!
If you're participating in the linky party, feel free to grab my link party button and help spread the word!


This is a blog hop!
get the code here to share