So, school has started and that means the start of fall is is really happening. I've even seen Halloween decor in stores now! I'm a big fan of summer so this is a little sad, but I'm sure all the pumpkins, spices, and aromas of fall baking will sooth that ache. Brown sweaters and boots will help, too. Good thing there are lots of fall-inspired recipes and crafts this week, with more to come :)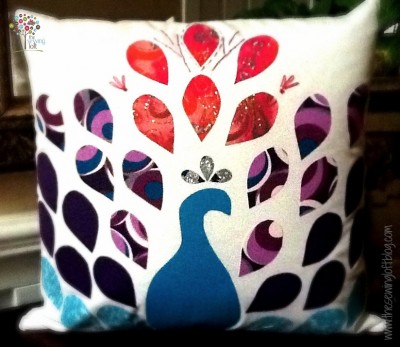 I love the design of this
peacock pillow
! It's so creative and the fabrics chosen add such flair :) Download the pattern and make this pillow for your home with
The Sewing Loft
's tutorial.
These are not real cupcakes, but
polymer clay cupcake beads
! Yep, you can use these for adorable earrings and necklaces if you're inclined to make jewelry (or have someone make it for you :) But first you'll have to make these beads, so head over to
Wesens Art
to learn how. The pink words are in English.
These pretty plates were once plain white plates, but thanks to
Twigg Studios
' artistic hand and a few porcelain pens, they're now beautiful and unique! You can create your own
permanent dishwasher safe designs on plates
with these instructions. Check out these tutorials too:
roses from paper petal confetti
and
mercury effect on drinking glasses
.
If you're sending your kids back to school (or are giving away back-to-school favors), these
plastic bottle apple containers
would make the perfect gift (filled with something sweet, of course). And it's seriously a great way to recycle some soda bottles. Check it out at
Repeat Crafter Me
.
Prepare for a relaxing bath time again with this
natural vanilla and patchouli scented bath salts
recipe from
Soap Deli News
. She's got a ton of natural bath/beauty recipes and advice, so check them out, including these recent ones:
milk bath recipe
,
natural herbs for a home spa experience
, and
sore muscle sea salt scrub
.
If you're looking for Halloween craft ideas, you'll definitely want to check out
Alderberry Hill
's
collection of Halloween tutorials
from last year and this year, all listed on one page! Pick one or more to create for yourself, including the
sweater pumpkin
from above.
This is suuuch a great idea! If you have some favorite t-shirt designs, but the shirts themselves don't fit anymore or are in pretty unwearable condition,
cut out the designs and frame them
! This tutorial is from
A Steed's Life
.
Make your own
fresh pizza sauce
and freeze them for later use with this recipe from
Recipes We Love
. Even if you don't make your own pizzas, you can use these for dipping, as pizza-flavored spaghetti sauce, or for pizza breads (my tried and true college survival recipe: simply buy bread rolls, cut in half, cover with pizza/spaghetti sauce, cheese, and pepperoni, then bake for 15 min! :)
For a carb-free dinner, serve this
arugula and garlic sauté over spaghetti squash
. For even more flavor, you can serve it with that pizza sauce from above ;) You can probably trick your family into eating an all-vegetable dinner because they'll think they're eating spaghetti instead of squash (maybe). Find this at
Gluten Free A-Z
. Make a
zucchini, red pepper, and spinach quiche
, too.
Get your kids to eat some veggies by serving this
cheesy zucchini rice
for dinner! I used to hate zucchini as a kid but I can't get over how good they are now. If you want to be even healthier, make this with brown rice or quinoa instead of white rice. Get this recipe at
Dishing with Leslie
.
Make use of the coming pumpkins with
pumpkin spice muffins
! Celebrate the beginning of fall with something warm, toasty, and sweet :) Find this recipe at
Natasha in Oz
.
More recipes:
++++++++++++++++++++++++++++++++++++++++


Join the fun
every Sunday and link up your latest blog post
! I will be
featuring my favorite
blog posts from this list on the next Sunday Linky Party. You can post anything you'd like to share! :) Check out the other linked posts as well - they're gems!
Important:
If you link up and are featured in the next Sunday Linky Party, you give me permission to use the photo that I feature to promote the Sunday Linky Party you are featured in. You are the owner of your photos, but I may use the featured photo to promote the party through Twitter, Facebook, Pinterest, Craftgawker, G+, and other social networking and blog/web sites. If you do not want your photo to be used, you can either link up and send me an e-mail saying you don't want to be featured, or you can not link up. To learn more about why I added this note,
head to this past party
.
Please link a
specific blog post
and not the overall homepage!
If you're participating in the linky party, feel free to grab my link party button and help spread the word!


This is a blog hop!
get the code here to share