Hi all, hope you had a wonderful Thanksgiving and a fruitful Black Friday/Cyber Monday (if you participated in the frenzy!) I spent dinner with the in-laws and another dinner with my dad's side of the family (on different nights, of course), and I definitely ate too much, especially now that my tummy's getting pretty large so it's uncomfortable to eat too much at once! As for house-hunting, we found one and hopefully will get to move in before Christmas, although if we miss that deadline, I'll still be thankful we've found a new place to live :) I can't wait to start decorating the place and finally getting into baby-room-designing! As for now, I can only look at all these amazing diy projects online and bookmark them until the time comes. I'm really itching to start though!
Although it's hard to tell from the photo, those banners are actually made from aluminum cans! Yep, make use of all those soda cans and make a
metallic faux zinc banner
, from
Twigg Studios
. Try her other tutorials, too:
hanging Christmas bauble vase
,
winter wonderland bauble
,
Christmas made easy
, and
glitter pumpkin place settings
.
Make your Christmas lights extra festive by adding these
little woolen snow globe balls
to them! They're easy and very budget-friendly to make, so check them out at
Wesens Art
! If you're into paper models, check out her
paper church tutorial
, too.
Save money, find a use for all of your fabric scraps, and make your Christmas cards unique and personal with this
fabric Christmas tree card
tutorial from
Square Circle Works
!
Here's a simple and fun project, perfect if you have some small pieces of wrapping paper leftover. It's also very kid friendly! Find this
Christmas tree decor
at
Scattered Thoughts of a Crafty Mom
.
Perfect for breakfast or after dinner, make this
pecan praline bread pudding
from
Lady Behind the Curtain
and it'll get devoured fast! For another dessert, try this
persimmon cheesecake
. I loooove persimmons and am extremely lucky to have a giant persimmon tree in my parents' backyard. Of course I end up eating too many of them every fall/winter :)
Mmm... get your fingers on these
warm homemade butter buns
from
Family Home and Life
! I always feel better about making my own breads (especially butter rolls) because I know and can control the ingredients and amount that goes into the recipe. These look so delish, I want a bite, now! Try her
pumpkin seed snack pack
, too.
Imagine how this
tart cranberry cheesecake with macadamia nut crust
would look on your family dinner table! Just looking at this makes me feel all Christmasy :) Get this recipe from
Sweet Boutique
.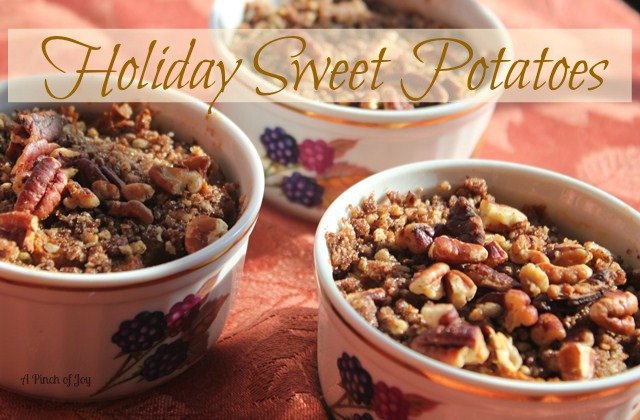 Although you can't actually see the sweet potatoes in this picture, this recipe sounds delicious based on the ingredients! Try these
holiday sweet potatoes
from
A Pinch of Joy
. I think this recipe warrants a slightly more descriptive name though, I mean, what if I want to introduce these for a dinner party during a non-holiday? :) Try her
Snickers surprise salad
, too!
Yum, more bread! Make your own
basic focaccia bread with 4 variations
with this recipe from
Don't Waste the Crumbs
. She's made my favorite kind (jalapenos with cheese :), for which I've spent plenty of dollars on at my local grocery stores.
More recipes:
++++++++++++++++++++++++++++++++++++++++


Join the fun
every Sunday and link up your latest blog post
! I will be
featuring my favorite
blog posts from this list on the next Sunday Linky Party. You can post anything you'd like to share! :) Check out the other linked posts as well - they're gems!
Important:
If you link up and are featured in the next Sunday Linky Party, you give me permission to use the photo that I feature to promote the Sunday Linky Party you are featured in. You are the owner of your photos, but I may use the featured photo to promote the party through Twitter, Facebook, Pinterest, Craftgawker, G+, and other social networking and blog/web sites. If you do not want your photo to be used, you can either link up and send me an e-mail saying you don't want to be featured, or you can not link up. To learn more about why I added this note,
head to this past party
.
Please link a
specific blog post
and not the overall homepage!
If you're participating in the linky party, feel free to grab my link party button and help spread the word!


This is a blog hop!
get the code here to share